Six State Senators will face off with their challengers at the voting booths tomorrow (Tuesday, August 9): Rob Cowles versus Nancy Nusbaum (district 2), Alberta Darling versus Sandra Pasch (district 8), Sheila Harsdorf versus Shelly Moore (district 10), Luther Olsen versus Fred Clark (district 14),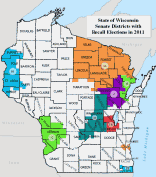 Randy Hopper versus Jessica King (district 18) and Dan Kapanke versus Jennifer Shilling (district 32). For a quick review of the candidates and the issues, click on the image to the left (or alternately click here). This will open a clickable map of the elections in a separate window. There's summary information about the races, available by hovering your mouse over a Senate District, and clicking the District connects you to additional candidate information including endorsements of the candidates by PACs, unions and public welfare organizations. There are also links to the Voter Public Access website, that will tell you precisely which Senate District you're in, and where you go to vote.
By the end of the day Tuesday, we may know if the Republicans are going to hang on to the State Senate or not. However, there will be two more recall races a week from tomorrow, so this could be a drawn-out nail-biter.
Editor